Whoops! This page is no longer canon!
Vapor has been around since 2012. Since then, we've had many key players come and go, as well as a significant reboot in 2018, which has left many articles contained in this wiki out-of-date or entirely non-canon. Rather than simply remove parts of our history that no longer apply, we have decided to preserve them in our "Legends Canon," so that they may exist outside of Vapor's proper and current canon history. This is one of those articles.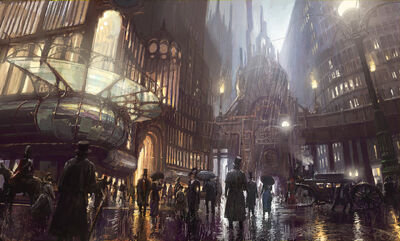 The City of Vitzburg is the capital of the
Kingdom of Vitzenburg
. Before it was pillaged by Kaiser Martin Eisenburg I it was known as Falmis and was one of the most important cities to the area. It held the seat of the Confederacy of Falmis, where the autonomous peoples organized. It was renamed Vitzburg and became the seat of the new Kingdom. It has a population of 6.2 million people. Another item of note is that Vitzburg contains the University of Wullaw, one of the oldest and most prestigous schools in Amplector. It contains 3 different Colleges: Engineering, Law, and Agriculture.
Due to industrial pollution, since 1896, it has rained almost everyday consecutively in Vitzburg. This has caused a variety of problems, with run off and erosion among the top. Demonstrations from naturalists and others have since become prevelant since 1896, though because of the heavy rains, most protests are small and few between.